May We Never Forget
"Even a single lamp dispels the darkness"
                                                                Gandhi
I am on a ten-day tour to the East Coast. First stop is Chicago for the Healing Touch Conference; second stop, New York City to do a night at One Spirit Learning Alliance; third stop, Kripulu Retreat Center in Lennox, Massachusetts to do an annual women's retreat with my dear friend Joan Borysenko.
Right now I am writing this from NYC where I just visited the 9/11 Memorial. I had so many emotions seeing all the names of the people who lost their lives that day, and the beautiful waterfalls that were built where the towers stood.
September 11th is one of those days where I am sure many of us remember exactly where we were when we heard the news – one of those moments where time seemed to just stop. I remember trying to process what I was seeing on the TV screen and thinking about all those lives and the chaos that was happening. For days afterward I felt like I was in a fog trying to go about my life and yet not really fully present (very much the way I have felt this past week with the news of Robin Williams passing. Robin lived in my town, and I had met him many times working in the comedy clubs when I was younger…always charming and kind. The loss has been so hard for us all).
I remember a few days after 9/11 driving into the city to the Dolphin Club to go swim in the San Francisco Bay. My fellow swimmers must have been feeling the same thing – that being in the cold refreshing water would ease the pain and clear our minds somehow. I had an amazing experience that morning. While I was swimming I got an entire download in my mind of a song about what I was feeling. The night before I had been part of a candlelight vigil where everyone came out of the restaurants and stores, stopped their cars, and stood for 5 minutes in silence…some holding candles, some praying, some crying…but all of us together…. as one… bonding in unity over this tragedy. So the next morning, when I was swimming, I heard the words and melody: "I'll light a candle in your memory, though I don't know who you are…. I'll light a candle…."
The song actually came to me – all the words, the music and the arrangement – everything all at once. The funny part of this story is that I was so afraid I would forget it that I swam to shore and approached a total stranger talking on their cell phone and asked if I could borrow it. When they said yes, I called my message machine and sang the whole song into it. When I was done I handed the person back their phone and dove back into the water. This tourist laughed and said, "You people in San Francisco sure are crazy!"
At the memorial there was a beautiful plaque with an artist's rendering of the twin towers and the first responders saying "May We Never Forget." As my song says: "We will light this world with our love." Lets make a vow to never forget that day and keep shining our lights, loving each other and sharing our love…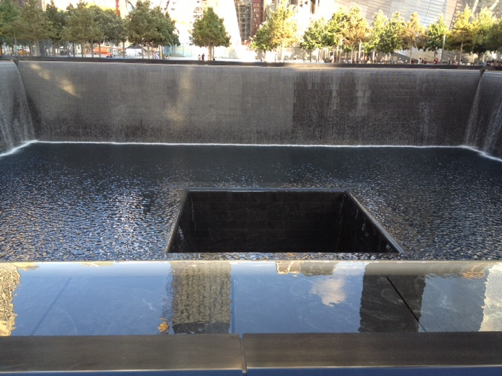 Write a comment