BREATHE, TRUST, LET GO, AND KNOW
"And the day came when the risk to remain tight in a bud was more painful than the risk it took to blossom."   Anais Nin
October 22nd…. (Before the retreat)
I am taking a risk right now. To others it might not seem like a risk but to me this has been a big deal. I am flying to one of my favorite places – Maui, Hawaii – to facilitate my own five-day women's retreat with 19 wonderful women. I am usually hired by churches or organizations to facilitate or co-facilitate three-day retreats, so this is nothing new. The difference is that this one is on my own. I have had a dream of doing this for years, in a beautiful setting, and doing it the way I wanted to do it. It feels like the difference of owning a house vs. renting. When something goes wrong when you are renting you just call the landlord; when you are a homeowner it's all your responsibility. So that's what this feels like…I am owning this and after years of thinking about it, putting it off, making excuses, I am finally doing it.
I have come to realize that this is my form of therapy. Every time I do a retreat, or write a new talk, or compose a new song, anything that is not healed or that I need to look at about the subject seems to come up for me to deal with. Gee what fun! But actually it's all part of the process. This retreat brought up my insecurity about being good enough (Some of these women have flown over 10 hours to be with me – will I be good enough?), my over-trying (Well I better bring 25 exercises and quotes so that I have enough juicy information!), and plain old money issues (I hope they will feel like it/I was worth it!!!). So I find myself having to walk my talk and practice some of the exercises that I teach about.
I have noticed that it has helped to reframe the concept of the word "risk" into "challenge". When I look at this retreat and these issues like a challenge, it feels exciting and doable. It allows me to see the places in me that feel like a stretch and play a little game of "wow – can I really do this?"  When I feel the butterflies come up I have to remember that this retreat is built on hundreds of small little steps that brought me to this place: being a music director at a church and feeling the call to travel around the country singing my songs; writing a book and being hired to then speak at churches; co-facilitating retreats; and finally to this moment where I am now facilitating and producing my own retreat.
So the lesson for me right now? Breathe, trust, let go and know. (Gee there might be some Karen Drucker songs I could listen to that would remind me!)
October 26th… (after the retreat)
Bliss, open heart, inspired, transformed, connected, happy, what's next!!!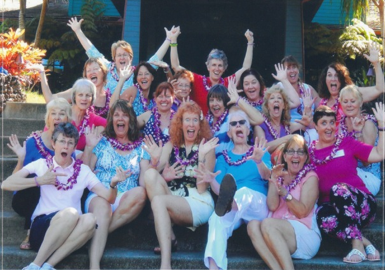 Write a comment