I Can Do It!!
"The mind is the limit. As long as the mind can envision the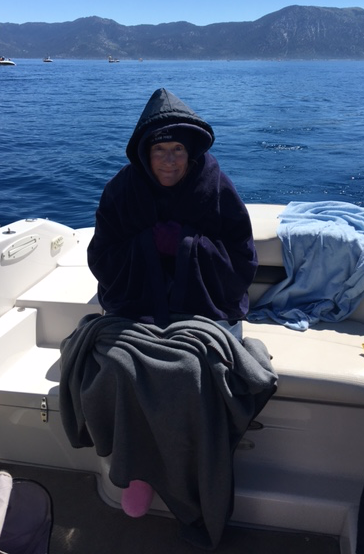 fact that you can do something, you can do it, as long as you really believe 100 percent."
David Hockney
"If you can dream it, you can do it."
Enzo Ferrari
It was my 10th time doing this race. The 40th annual Trans-Tahoe swim race that takes six members per team swimming next to a boat, each doing one 30 minute leg and then 10 minute legs across the 11-mile width of Lake Tahoe until you finish. It was the race that I did 30 years ago that got me hooked on cold-water swimming.
I came up to Lake Tahoe two days before Saturday's race to acclimate to the altitude as well as the cold water, and to have a few practice swims with members of my swim team. I was nervous about the cold water due to considerable snowmelt from the winter storms we had in California, all which causes colder water in the lake. At 4:00 pm a group of us were supposed to meet at a dock and make the plunge to see how cold it would actually be. I was anxious thinking about how I had just been training in the pool but not in the San Francisco Bay and the temperature could be really shocking.
My entire inner dialog came to a halt when I saw Theo rolling up in his wheel chair, red hair blazing in the sun, with a smile and charisma that could melt a glacier. Theo St. Francis is a member of my masters swim team and an inspiration to us all. When he was 18, after years of being a star swimmer – captain of his High School swim team and a Scholastic All-American swimmer – he went off to MIT to swim for the varsity squad team. He wound up having a freak accident swimming in the ocean that left him paralyzed from the chest down. Now at 21, where others may say their life was over, Theo has demonstrated all the principals that we talk about in New Thought (especially "what you focus on grows") and he is so focused on what he can do and what he will do that there is no room for self pity or letting life pass him by. Theo was here to train to be part of the relay swimming across Lake Tahoe.
So that afternoon, standing on the dock in front of the beautiful blue lake, all of us were on board to figure out how to get him down the dock and into the water. With the help of two strong men navigating his wheel chair down a narrow ramp, they helped him onto a little platform where he outfitted himself with a pool buoy between his legs and a blue float around his waist, and he proceeded to shimmy over to the edge and into the water. We all stood there humbled and inspired and basically let go of any small fears we had.
Theo took off doing a version of backstroke where he throws both arms over his head and was out in the 60-degree water for 30 minutes. Yes it was cold, but like Theo said to me, "I didn't come here to swim this race to be comfortable." I worried how we were going to get him out of the water but as he would say over and over "We'll figure it out when we get there," and he did.
On Saturday morning 240 small boats were lined up ready to start the race. The gun went off at 7:30am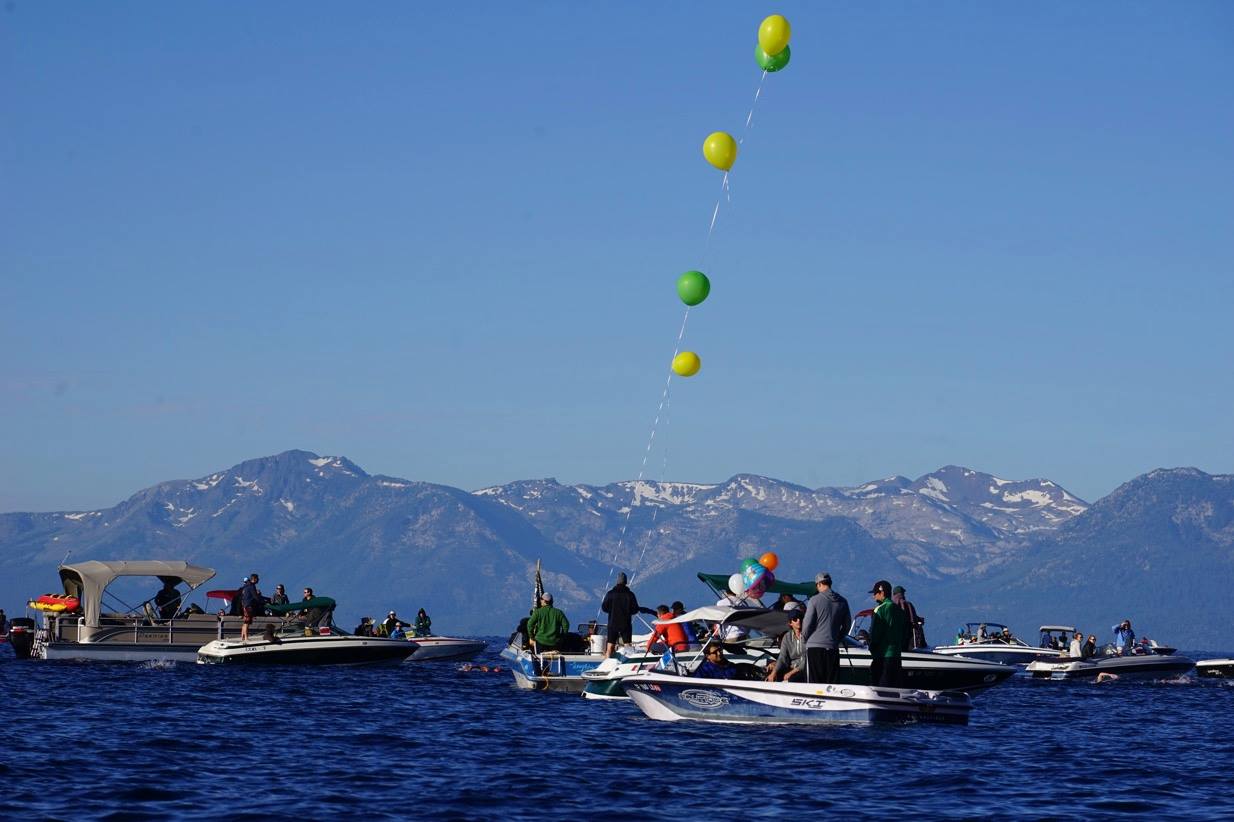 and the first swimmer from every team ran from the shore into the water. When I looked out at all the chaos that morning I thought of Theo and wondered how he was going to get in and out of the water from the boat. About two hours into the swim there he was on a boat right near ours. When he saw our team he shouted out "Game on!!" Accompanied by a bunch of his young friends, I saw them lift him over the side and he basically threw himself in the water and started swimming. He had a kayak next to him pointing the way but it didn't matter, Theo was going to give it his all for that swim and inspire everyone that saw him that day.


Every time I do any kind of performance, retreat, or talk, I always ask myself "Why am I doing this? What message will I receive? Where will the inspiration come from?" I had come up to Lake Tahoe to do this swim across the lake thinking it was all about finishing, or dealing with the cold, or testing my own endurance. But instead it was all about watching Theo overcoming all the obstacles that could have stopped him and witness him living, thriving, inspiring and showing me what is possible. His goal is to walk someday and return to MIT – and I know he will do it and more. In all the group pictures we took Theo always wanted to be standing – so we would move the wheel chair away and there he would stand – as a swimmer standing with his team.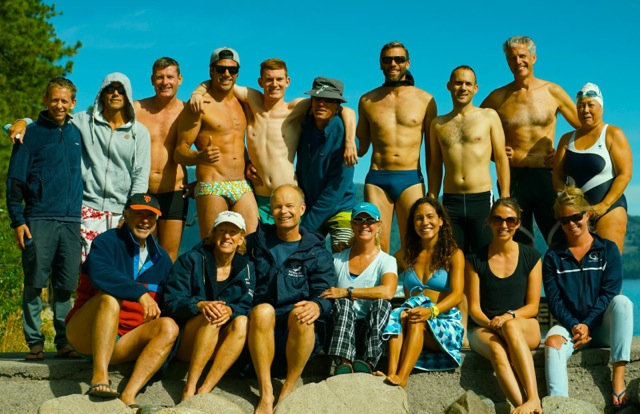 Comments
Write a comment