Dear Friends,
I love sharing my favorite places with friends and Asilomar is the top of my list, especially in Autumn. What I love about Asilomar is the smell of the fog and the ocean, wood burning in the fireplaces, and taking long walks on the beach. When you add in sharing time with like-minded women, great food, and wonderful self-inquiry, you'll understand why this retreat is an annual event. If you haven't experienced Asilomar yet, come join us!
"We can change the world one heart at a time."
The Retreat
"We can change the world one heart at a time." I sing these words from my song and recognize that truly we have the power to change the world and make a difference, but it starts with our own hearts. These days it seems like there is so much going on in the world that we sometimes feel helpless, frustrated, or useless in our ability to make changes either for ourselves or for others. How can we change things that seem insurmountable? When there is so much, in so many places, involving so many people, what is ours to do? How can we make a difference?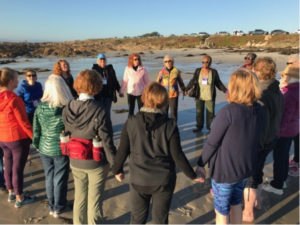 In our retreat we will look at how paying attention to, and taking care of, our own heart is the greatest gift we can give ourselves, and how it allows us to be more present in the world. Our time together will include time for self-reflection and renewal, looking at what works for us and what doesn't (and how to lovingly let go of or transform the "what doesn't"), as well as time for yourself and/or time to create new friendships. We gather together every morning and evening, leaving the afternoons to do whatever you would like – or to do nothing.
The Location
Asilomar is located in Pacific Grove, near Monterey and Carmel on the California coast. It is an area rich with other activities and adventures as well: shopping and exploring Carmel-By-the-Sea, driving down the Big Sur Coast, going to the Monterey Aquarium, kayaking on Monterey Bay, and exploring the charming town of Pacific Grove.
---
The Details
When:
October 18 – 21, 2018, Thursday through Sunday
Where:
Asilomar Conference Grounds, Pacific Grove, California
*Cost:
DOUBLE OCCUPANCY ~ $1,250.00
($1,125.00 if paid in full by June 15, 2018) SINGLE OCCUPANCY ~ $1,550.00
($1,425.00 if paid in full by June 15, 2018)
* Cost includes meals from dinner Thursday night through lunch on Sunday.
Cost does not include transportation to Asilomar.
LIMITED upgrades – please contact our office to see if your upgrade is available:
Fireplace room – additional $22.00 per night
Ocean View Room – additional $44.00 per night
Fireplace Room w/Ocean View – additional $55.00 per night
Registration
$300.00 Deposit at time of registration ($150.00 non-refundable)
$300.00 2nd non-refundable deposit due 90 days after initial deposit
TOTAL BALANCE DUE BY AUGUST 18, 2018
NO REFUNDS AFTER AUGUST 18, 2018
You may arrange for another woman to take your place if you cannot attend.
Space will be limited in order to ensure that each participant has a quality experience. Reserve your space today. To register you can download & print our registration form or click the button below to register online.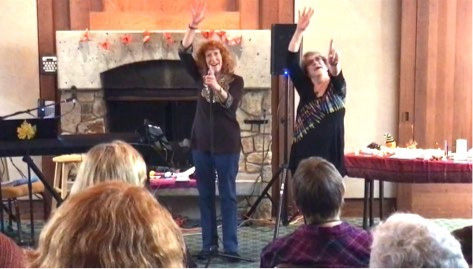 ---
Sample Schedule (subject to change)
Thursday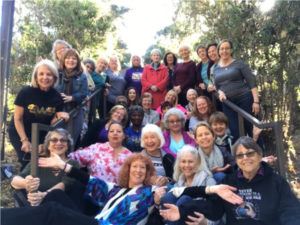 Pre-dinner get together: 5:30 pm
Dinner: 6:00 – 7:00 pm
Evening program: 7:30 – 9:00 pm
Friday and Saturday
Breakfast: 7:30 – 9:00 am
Morning program: 9:30 am – 12:00 pm.
Lunch: 12:00 – 1:00 pm
Free time: 1:00 – 6:00 pm
(optional "check in" time from 5:00 – 6:00)
Dinner: 6:00 – 7:00 pm
Evening program: 7:30 – 9:00 pm
Sunday
Breakfast: 7:30 – 9:00 am
Morning program: 9:30 – 11:30 am
Lunch: 12:00 – 1:00 pm
---
What To Expect From A Karen Drucker Retreat
I believe in creating community and connection between women. We do that in a way that is heart opening and fun by utilizing lots of singing (no – you don't have to be a good singer, or know any of my songs!), group exercises and discussions (in groups of 2 or 4 people), and lots of shared wisdom and laughter. There are times when tears are appropriate, and we support each other lovingly through those times. Being in a group of like-minded women and sharing our lives allows us to open our hearts and connect to ourselves in a deeper way.
The theme of "One Heart At A Time" will lead us on a path of self-discovery, looking at what are our hearts are calling us towards, what we need to let go of, and what we want to step into.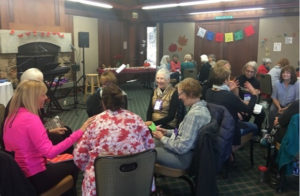 This retreat is for you if you want to:
* Be uplifted by music that inspires and heals.
* Become clear on the next step in your life.
* Learn tools on how to practice radical self-care.
* Be seen and heard.
* Be inspired by the beauty of nature.
* Start the day with "morning bliss."
* Be part of an autumn ritual to let go, surrender, and forgive.
* Sing, laugh, make new friends, and return home with a faith lift!
No matter if you have been to a Karen Drucker retreat before – each one is different based on who shows up and what is happening with ourselves and in the world.
---
Nuts & Bolts
There are many options, and therefore varying prices, to get to Asilomar.
By Plane:
Oakland (OAK) – approximately 2 hours from Asilomar
San Francisco (SFO) – approximately 2 hours from Asilomar
San Jose (SJC) – approximately 90 minutes from Asilomar
Monterey Airport (MRY) – approximately 20 minutes from Asilomar
To get to Asilomar from the airports, it is advisable that you rent a car (shuttles are available from San Francisco and San Jose – www.montereyshuttle.com). Due to its remote location, a car rental may make it easier for you to explore the area in your free time.
Questions?
Please feel free to email sue@karendrucker.com if you have any questions regarding the retreat. Space is limited, so don't delay in reserving your place for this wonderful retreat at beautiful Asilomar!
You are welcome here, whoever you are, where ever you are on your path,
give yourself this gift of a time for you….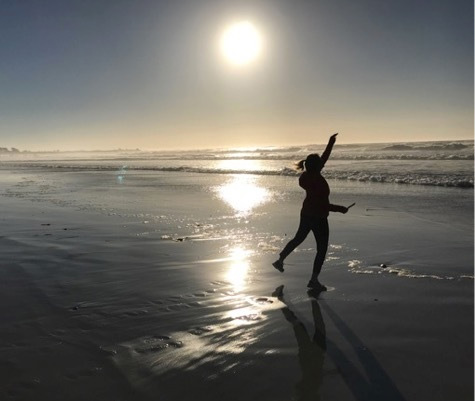 **Please note this retreat is a gentle process of reflecting about our lives, it is not meant to be a substitute for deeper issues or therapy.**