"I will be gentle with myself and I will love myself
like a new born baby child."
Karen Drucker
Dear Friends,
I love sharing my "happy places" with my friends, and spending time next to the water in Tiburon, California, is one of my most favorite places to be. I have explored many of the trails, spent hours just breathing in the fog and walking along the shoreline of Tiburon, looking out at the San Francisco skyline and seeing the Golden Gate Bridge across the water. And now I want to share this special place with you.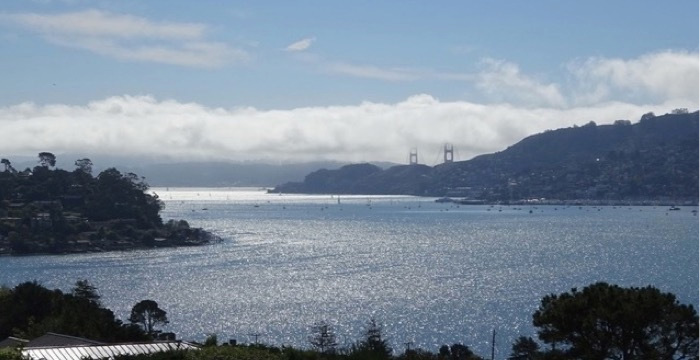 The Retreat
I am offering a one-day "mini-retreat" at the Community Congregational Church in Tiburon. This beautiful space is on a hill overlooking the San Francisco Bay with a view that includes the city of San Francisco and the Golden Gate Bridge. Our time together at this retreat will include an opportunity to reflect and renew, time for yourself, time to create new friendships, and the gift of being with like-minded women in a loving, supportive environment. We will sing, share, do group exercises and discussions, have a sacred spring ritual, and laugh a lot! We also get to eat (another favorite thing) with a nurturing lunch included.
The Location
Tiburon is located on the northern end of the Golden Gate Bridge in Marin County on the California coast. Across the bay is the skyline of San Francisco, on the other side is Sausalito, which looks like an Italian city on the hill. Next door is Mill Valley with Muir Woods and the Redwood forests, and then there is the Pacific Ocean right outside the Golden Gate Bridge. There are fabulous hotels and activities such as hiking, kayaking, and great shopping all in the area.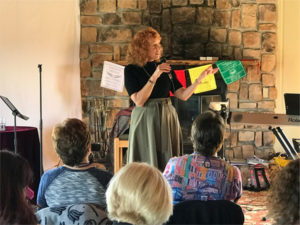 "Self-care is never a selfish act – it is simply good stewardship of the only gift I have, the gift I was put on earth to offer others. Anytime we can listen to true self and give the care it requires, we do it not only for ourselves, but for the many others whose lives we touch."― Parker J. Palmer
The Details
| | |
| --- | --- |
| When: | Saturday April 7, 2018, 9:30 am – 4:30 pm |
| Where: | Community Congregational Church, Tiburon, CA |
| *Cost: | Early Bird price – $120 until February 28th; $150 after February 28th |
*Price includes workshop all day Saturday and lunch.
Price does not include travel and accommodations.
Registration
$50.00 Deposit at time of registration ($25.00 non-refundable)
TOTAL BALANCE DUE BY March 24, 2018
No refunds after March 24, though you may arrange for another woman to take your place if you cannot attend.
Registration is first come first served – limited space available. To register you can download & print our registration form or click the button below to register online.
Schedule (subject to change)
Check in: 9:00 am
Morning Session: 9:30 – 12:00
Lunch: 12:00 -1:00
Time off with options: 1:00 – 3:00
Hike (non-strenuous) with Karen along the bay front in Tiburon
Massage can be available (pre-signups would be required)
Craft time
Explore the area
Hang out and read a book!
Take a snooze
Afternoon Session: 3:00 – 4:30
What to expect from a Karen Drucker Retreat
I believe in creating community and connection between women. We do that in a way that is heart opening and fun by utilizing lots of singing (no – you don't have to be a good singer, or know any of my songs!), group exercises and discussions (in groups of 2 or 4 people), and lots of shared wisdom and laughter. There are times when tears are appropriate, and we support each other lovingly through those times. Being in a group of like-minded women and sharing our lives allows us to open our hearts and connect to ourselves in a deeper way.
The theme of "Gentle With Myself " will lead us on a path of self-discovery, looking at what are our hearts are calling us towards, what we need to let go of, what we want to step into, and how to do all of this with loving self care.
This retreat is for you if you want to: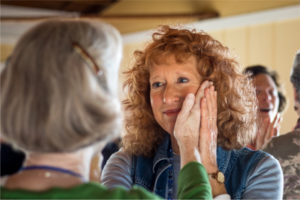 * Be uplifted by music that inspires and heals.
* Gain clarity on the next step(s) in your life.
* Create stronger boundaries and be able to say no to what no longer serves.
* Walk away with tools on how to practice radical self-care.
* Be seen and heard.
* Be inspired by the beauty of nature.
* Start the day with "morning bliss."
* Be part of a spring ritual to bring in the light.
* Eat great food and have someone else clean up after you!
* Sing, laugh, make new friends, and return home with a faith lift!
No matter if you have been to a Karen Drucker retreat before – each one is different based on who shows up and what is happening with ourselves and in the world.
Nuts & Bolts
For out of town guests
There are many options, and therefore varying prices, to get to Tiburon.
Air
You can fly into San Francisco (SFO) or Oakland (OAK) – both airports are about 45-60 minutes from Tiburon.
Hotel
There are all kinds of accommodations in Tiburon, Mill Valley, Sausalito, San Rafael or San Francisco, luxury to economy – we can send you a list if you need it. You can also check out Airbnb or Priceline for a variety of ideas.
Car
It is highly advisable you rent a car for the weekend since the Bay Area is not train or bus convenient. You can find deals for cars through Hotwire, Costco car rental, and Priceline.
Directions to Tiburon: https://www.townoftiburon.org/169/Getting-Here
If you sign up for this retreat we can send you a list of accommodations and things to do in the area.
Questions?
Please feel free to email sue@karendrucker.com if you have any questions regarding the retreat. Space is limited, so don't delay in reserving your place for this wonderful retreat at beautiful Asilomar!
You are welcome here, whoever you are, where ever you are on your path,
give yourself this gift of a time for you…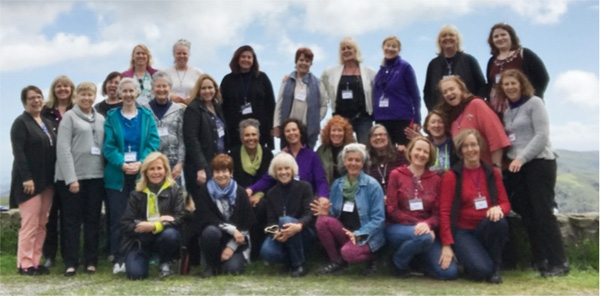 **Please note this retreat is a gentle process of reflecting about our lives, it is not meant to be a substitute for deeper issues or therapy.**