Sing Along CDs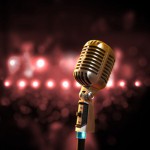 For singers singing in churches (or even the car or shower!) Karen has made the "Tracks" of all her CDs available. What this means is that Karen's lead voice is taken out and you sing the lead! The backup singers and all the instruments are there, just the lead vocal has been taken out. Please note this is not the kind of Karaoke where the lyrics show up on a screen, it's just the MP3's that you can use to perform with. All the lyrics are available on Karen's website, and also in Karen's songbooks that feature the words, melody and chords. Please give Karen songwriting credit if you are performing any of her songs in public. She appreciates it!
The following CDs have Sing-Along tracks available as full CD downloads ($25), individual track downloads ($5.00 each), or CD ($35):
Songs of the Spirit 2
Songs of the Spirit 3
Songs of the Spirit 4
The Call
Shine
Beloved
All About Love
Hold On to Love
With Love Anything Is Possible
We are excited to be offering some "Sing-Along" tracks here on Karen's website under the "Individual MP3 & Sheet Music Downloads" link on the right.  If you would like a track that isn't listed, please contact our office at sue@karendrucker.com.