The Call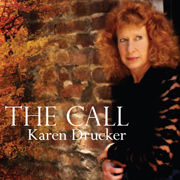 Buy Now CD $17
Buy Now Songbook $17
14 new songs, all with a positive message and in a variety of styles. Many of the songs were co-written with some of Karen's favorite artists including Karen Taylor-Good, JD Martin, Jan Garrett, Robert Anderson and Jack Fowler. The CD also includes the full band and Karen's back-up singers, "The Druckettes." The companion songbook includes all the songs on the CD in an easy-to-read piano/guitar chords and melody format (lead sheet).  Individual songs, sing-along songs, and lead sheets are available for download in the "Individual MP3 & Sheet Music Downloads" section.
I Can Do It
I Don't Have To Be Perfect
I Know
This Too Shall Pass
Cry If You Want To
Every Little Thought I Think
See Me
Just Show Up
Just Stop It!