With Love Anything Is Possible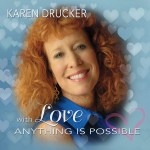 "I think one of the great things about being a musician is that you never stop learning" Yo-Yo Ma
My new CD has finally arrived! Its been two years since my last one, "The Call," and it has been quite an experience birthing this new project. Lots of ups and downs, stops and starts, and walking my talk about letting go of that inner critic that can flare up when I stretch and grow. I hear the vulnerable part of me questioning, "How will it compare to my other CDs? Will people like it? Did I include too many styles and is it okay that it's a combination of chants and uptempo rockin' songs?  Will my co-writers like what I did with the songs? Will it be a hit or miss?" On and on – and yet here it is. Done! 
This CD was quite a growth experience. I learned so much and had to move through my own blocks of trying new things and having old worn out and crusty beliefs come up. The main thing I learned, though, was how important it is to just do it. Keep showing up. I needed to keep pressing through when my inner critic came up with all of those questions I just listed (and believe me there are more there!).  I had to remember to keep breathing and doing things one step (or one song) at a time. I found myself laughing quite a few times at the irony of having that negative voice take over while singing lyrics from "Lean Into It," about surrendering into the process and not running away. Or being on overwhelm with this whole project and singing "One Breath At A Time," or feeling a major roadblock in my way and hearing myself sing "With Love Anything Is Possible." I would think of someone going through cancer treatments and hearing those words, and in that moment I would just soften my heart, tell my critic to take a break, and just sing.
I think my favorite song right now is "I'm Worthy." I have been reading Brené Brown's great books whose main message is about worthiness and vulnerability. This song is a great affirmation and reminder to me to claim my power and declare my worth. There are also some soft sweet chants, ("I See Your Light", "One Breath At A Time") and some get-on-your feet-dance tunes ( "We're All In The Same Boat", "Think It, Believe It, Dream It, Do It").ust sing.
As with all of my songs and chants, I have to admit they are all written to myself as an affirmation of what I am working on in my life. I declared for 2014 that I wanted to have more fun, joy and play – so the song, "Permission To Play" will be your go-to tune if that is your issue too! I am so grateful to all of my co-writers, the musicians, singers, and my friends and fans who encouraged me with this project. To view all the credits, lyrics, and more information about the songs – just go to my website. My intention with this CD is that you will have songs and chants to accompany you on your path – whether you want something soothing or want to jump up and dance.
Write a comment