Re-Frames
"Nothing can stop the person with the right mental attitude from achieving his goal. Nothing on earth can help the person with the wrong attitude."   Thomas Jefferson
I'm on a flight to Chicago right now en-route to a gig in Ohio.  As much as I love what I do for a living (traveling around the country doing concerts, speaking, and facilitating women's retreats), I gotta tell ya – the flying part?  Not so much.  And as much as I sing so many songs and do talks about the power of our words to create our reality… I must confess when it comes to traveling I find myself whining and moaning about how hard it is, the long security lines, being squished in my seat, and on and on.  I had a great re-frame of this when my friend Sue asked about my trip this weekend.  Instead of joining me in my pity parade of woe, she said "Wow – how fun!  You get to have a trip where you meet new people, see places you have never seen, and have a real adventure!"  Her excitement stopped me in my tracks and made me have an instant re-frame of the whole experience from one of deadness to aliveness.
So once again I get to look at the various aspects of my life and see where there might be some new ways to breathe some aliveness into some old routines!
My hubby and I have two cats that we adore. They have always been inside cats because the area we live in has raccoons, coyotes, and other kitty-feasting creatures.  One of our cats longs to go outside.  She moans, she scratches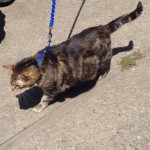 at the window, she looks at us with pleading eyes about going outside and eating the grass and sniffing everything.  I felt so guilty that I researched what to do and found a "kitty leash"  that allows you to "walk"  with your cat outside on a leash.  We tried it and she loves it.  So now once a day our task is to put her on the leash and take her for a "walk".  The problem is this is not a dog – it's a cat… who moves at her own speed…which in other words, is s-l-o-w!!!  Some days I feel my impatience come up, like I just want her to walk around fast and be done.  But here is the re-frame – just taking the time to really "be" with her, let her go at her slow pace, eat her grass, sniff the flowers, has been a time for me to do slow down and have a state-of-mind change. And what I find is when I go back to my work I actually am more present.
Here is a cute story that sums up the concept of re-frames for me:
A woman complained to her husband every morning about the neighbor who would hang her wash outside.  "That laundry is not very clean" she said.  "She just doesn't know how to wash correctly. Perhaps she needs better laundry soap!"  Her husband looked on, but remained silent.  Every time the neighbor would hang her wash to dry, the woman would make the same judgmental comments.
One month later the woman was surprised to see a nice clean wash on the line and said to her husband, "Look!  She has FINALLY learned to how to wash correctly.  I wonder who taught her this?"
The husband said. "I got up early this morning and cleaned our windows."
And so it goes….  Where can you do a few re-frames in your life?
Write a comment